My dogs are my family. This webpage our photo album.
Sometimes I have puppies, and these puppies are available to homes who have dogs in their hearts also.
But mostly I keep and spend time with my dogs for the joy and friendship of the dogs themselves; and the landscapes and peoples their lifelong learning takes me.
'Dog breeder' is not the main purpose of Takas Volkodav, nor is the winning of show awards, or most activities that regular dog breeders aspire to.
Takas Volkodav grew from and exists for a lifelong fascination, love and immersion with the native Shepherd Dogs of Turkey, Central Asia and Caucasus.
To understand Shepherd Dog, one needs to understand the passage of time and livelihood from which the shepherds and their dogs came.
It is not to idealise a kennel club standard which shepherd dogs predate for centuries; it is not to receive awards from judges who have never experienced the wild beauty of shepherd dogs' homelands; it is not to breed animated and amenable show exhibits to ingratiate acceptance from showies who have never known the safety of a shepherd dog's defiance; it is not to dilute their temper and spirit, for without which they are no longer a Shepherd Dog.
True Shepherd Dogs are not show dogs or family pets. By definition the latter negate the duty & character of the former. Yet a show dog can pique interest in the history of nomadic cultures that is the Shepherd Dog; and the family guardian can foster pride in the duty and bravery of its Shepherd Dog forebears and relatives.
Takas Volkodav exists to share the unique qualities of traditional Shepherd Dogs; the stories of their lands and peoples, and to preserve the heritage of Shepherd Dogs working in their native environments.
The hope of Takas Volkodav is to engender appreciation and understanding of the Shepherd Dogs of Turkey, Central Asia and Caucasus.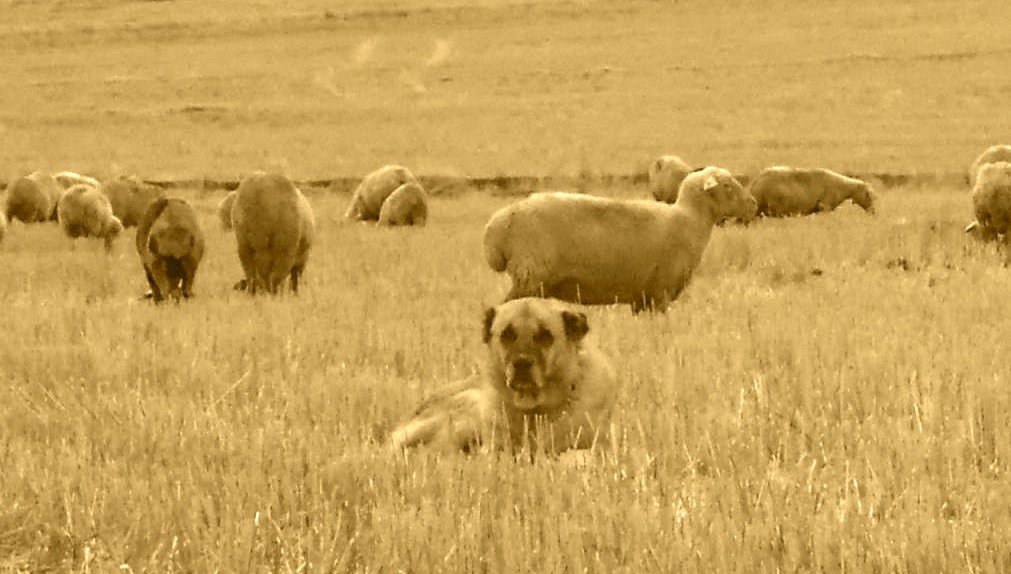 ~ LION DOGS OF TURKEY WITH THE SUBSTANCE AND STATURE OF LEGEND ~


TAKAS
Çoban Köpeği

PRESERVING THE ARCHETYPAL STOCK GUARD
Stable, adaptable and capable Çoban Köpeği
bred to work and excel
in the Australian environment

Dedicated to the Turkish Karabaş since 1996
Takas exists foremost from a love for the native Çoban Köpeği of Turkey
and is committed to its research and documentation; education and preservation.
The prerogative of Takas, is to uphold traditional Çoban Köpeği character
and exterior, stock guardian acumen, and upstanding physique.
Hence steadfast temperament with adaptive intelligence; longevity; sound stature
and robust immune; are the cornerstones of Takas' breeding.

The Takas family cohabits Australia and Ankara,
and from time to time Takas translocate Çoban Köpeği from Turkey -
importing traditional Turkish Shepherd Dogs, with genuine heritage bloodlines
that are unique to Australia and worldwide.
Rom Champion BONNIE (IMPORT TURKEY) was the first Anatolian Shepherd Dog to be imported from Turkey to Australia, and is the only representation of esoteric TYSON of Denizli (Tuzköy Karapınar) and Kangal Kurtboğan TALAZ bloodlines outside of Turkey.
Bonnie's registration process pioneered by Takas, paved the way for future FCI Coban Kopegi imports from Turkey to Australia.

Takas' 2007 semen import: International/European/Italian Champion ZWINGLI DES POTERIES (Belgium),
was the first Anatolian lineage imported to Australia in more than a decade, and is the sire of inaugural ASDCV Best In Show winner Australian Champion TAKAS CIO CIO SAN,
and Takas' affable hostess, Australian Champion TAKAS HIDDEN DRAGON -
Parent & Progeny & dam of Best In Show winner Takas Haku Dastaan.
Takas' 2010 semen import: American Champion DOGRU's TURKISH PASSPORT (Usa) by Redwing Cast In Stone (Import Turkey),
and Aus Top Producing Dam TAKAS RAGE - Multiple Best In Show/ Australian Champion / Working Stock Protection Dog producer -
showcased the brindle phenotype to Australia, and introduced wolf sable and black tan pattern to the vernacular and understanding of Çoban Köpeği breeders/owners.
Parentage begetting: Multiple Best In Specialty Show Australian Champion TAKAS OMPHALE; R/U Best In Specialty Show Australian Champion TAKAS CLEOPATRA; Working Stock Protection Dog TAKAS BATHSHEBA - employed guardian of 30,000 free range chickens by Farm Pride Ltd, and brindle stud and property potection dog TAKAS GUSTAVE
.
In 2013 Takas fortified its generational breeding with the acquisition of TITANIUM (IMP TURKEY)
village born Çoban Köpekleri with robust & maternal lines working and producing into their teens;
raised as goat guardians in a multi dog pack defending against wolves and jackals.

Aslanım - Rom Champion ASLAN (IMPORT TURKEY) - pride of Takas.
Lion dog of Turkey with remarkable pedigree, special gift from my dear friend in Turkey, arrived in Australia in 2015. Aslan is the sire of the upcomng new generation of Takas Coban Kopegi: Takas Cookie Monsta, Takas Lynx & Takas Shahnama.


Takas' breeding and import selection, has bolstered the standard of, and brought substance
and genetic diversity to Anatolian Shepherd Dogs in Australia - producing Multiple Best In Show winners, many Champions, working sentry stock guardians, & providing foundation dogs for other kennels.
Although Takas has produced many Best In Show winners & Champions,
dog show awards are not the measure of Takas' Çoban Köpeği -
Takas Anatoliam Shepherd Dogs are measured in their generational health and longevity,
their capability in the field, and their ability to perform the duty of their heritage.
In homes throughout Australia and internationally,
Anatolians bred by Takas are excelling as stock protection dogs,
champion show exhibits, family companions and astute guardians -
renowned for their strong headtype, upstanding lion dog physique,
and traditional Çoban Köpeği temperament.
VOLKODAV
Dogs of Central Asia
Calm, stoic guardians of great strength and emotion;
intolerant and implacable with strangers -
gentle and loving with their family and those they know.

Custodian of the Central Asian Shepherd since 2000 -
Volkodav CAS are bred to have primal character and typical exterior,
with correct energy level for farm life and peaceful coexistence with livestock.
Please note Volkodav CAS breed from strong security / stock guardian lines
and as such Volkodav CAS are not suited for city suburban living or first time dog owners.
Volkodav CAS are ideally suited for farming roles and companions for astute owners -
as active stock & property protection dogs and personal guardians, they are without peer.

Takas Volkodav's Central Asian representatives include:
VOLKODAV BRASCO and the indelible BJEAN (from imported Russian and Kazakhstan dogs courtesy E Swegen);
DANARA ASIAN LEGEND (Import Czech) sire: Berk Import Belarus, dam: Dashbi Import Russia);
SHAMASH TOHUM (Import Belarus) sire: Belarus Champion Zombie, dam: Urana Belarus CAC);
ALI ALADJA PANDORA (Import Kyrgyzstan) sire: Int. Champion Olympic Star Navshan, dam: Ali Aladja Michel.

VOLKODAV Central Asian Shepherd Dogs remain true to their historical origins
preserving their unique guardian characteristics,
and are equally suited to
working as Livestock Guardian Dogs in rural Australia,
or living as the devoted family guardian and caretaker.